Legacy 120 Serving Breakfast, Lunch, and Dinner Bucket
Move pointer over the image to zoom in
Legacy 120 Serving Breakfast, Lunch, and Dinner Bucket
Model: CB0120
MSRP: $300.00 You save: $40.00
Availability: 2 - 3 Weeks
A wide selection of delicious entrees and easy to prepare breakfasts. This bucket is an excellent addition to your emergency preparedness food supply.
For easy, "grab and go" emergency-ready food storage, choose the 120 serving combo bucket from Legacy Premium. Bask in the four different breakfast options and 19 lunch/dinner meal choices that are instantly ready for any emergency; just add water and most freeze dried meals are ready to eat at a moment's notice. Save storage space; 120 freeze-dried foods are stored in one portable, heavy-duty bucket. Emergency freeze-dried meals have up to a 25-year life on the shelf.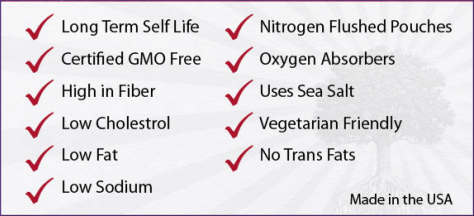 120 Serving Breakfast, Lunch, and Dinner Bucket
Servings
120
Average Calories Per Serving
434
Total Calories
51,920
Shelf Life
Up to 25 Years
Residual O2 Content
0.11%
Configuration
Pouches in Bucket
Large Buckets
1
Total Pouches
30
Weight
36 Pounds (lb)
Total Dimensions
1.36 Cubic Feet
Shipping Configuration
Box
Whether you're just starting to assemble your emergency supply or want to expand your food storage options, Legacy Premium ready made meals are the solution to delicious and affordable food storage. Add fun and diverse options at the best price for 2,000 calories in the industry. Freeze dried emergency storage foods are secured in Mylar pouches; each airtight pouch includes an oxygen absorber and nitrogen flush; pouches are collected in a heavy-duty, re-sealable bucket that is portable and ready to go wherever you go. Opening and closing the bucket does not affect the up to 25-year shelf life of the freeze-dried foods.
Legacy Premium's 120-serving combo bucket is jam-packed with divine meals that your family will love. Even the kids can get dinner ready with amazing meals like Pasta Primavera or Creamy Potato Soup. Enjoy hot or cold breakfasts, such as strawberry creamy wheat, multi-grain cereal or old-fashioned pancakes.
Think about not having to plan 120 meals for your family because you prepared ahead of time and got the Legacy Premium freeze-dried combo bucket. Imagine how you will feel, knowing that no matter how many people need an emergency meal, you are ready to feed them with ample freeze dried storage foods that are tasty and highly nutritious.
Breakfasts Include
Multi-Grain Cereal - 8 Servings
Oatmeal with Brown Sugar - 12 Servings
Strawberry Creamy Wheat - 12 Servings
Old Fashioned Pancake Mix - 8 Servings

Entrees Include
Italian Pasta with Marinara - 4 Servings
Enchilada, Beans, and Rice - 4 Servings
Classic Chili Mix - 4 Servings
White Bean Chili Mix - 4 Servings
Pasta Alfredo - 4 Servings
Pasta Primavera - 8 Servings
Loaded Baked Potato - 4 Servings
Chicken A La King - 4 Servings
Stroganoff - 4 Servings
Hawaiian Style Sweet 'n Sour - 4 Servings
Vegetable & Rotini Pasta - 4 Servings
Chili Mac - 4 Servings
Macaroni & Cheese - 4 Servings
Southwestern Soup Mix - 4 Servings
Cheesy Potato Soup Mix - 4 Servings
Cheese and Broccoli Soup Mix - 4 Servings
Spicy Corn Chowder Soup - 4 Servings
Creamy Potato Soup Mix - 4 Servings
Creamy Vegetable and Rice Soup Mix - 4 Servings
Write Review
Your Name:
Your Review:
Note:
Do not use HTML in the text.
Rating:
Enter the code from the box below: