Legacy 16 Serving Breakfast Sample Pack
Move pointer over the image to zoom in
Legacy 16 Serving Breakfast Sample Pack
Model: BS0016
MSRP: $42.00 You save: $6.00
Availability: 2 - 3 Weeks
The 16 Serving Breakfast Sample Pack is a great way to try Legacy Premium's 4 healthy and great tasting breakfasts.
Most emergency preparedness experts will tell you how important it is to sample food storage meal packs before making a big purchase. When you buy Legacy's 16-serving Breakfast Sample Pack, you get a taste of all the emergency breakfast meals Legacy has to offer, including oatmeal with brown sugar, multi-grain cereal, strawberry creamy wheat, and old-fashioned pancakes. Once you try them, we think you'll agree that Legacy offers one of the best-tasting food storage products in the industry.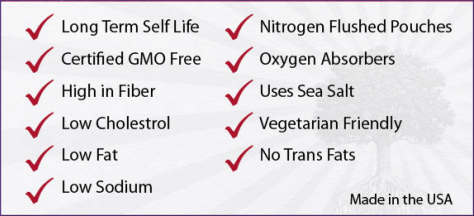 16 Serving Breakfast Sample Pack
Servings
16
Average Calories Per Serving
433
Total Calories
6,920
Shelf Life
Up to 25 Years
Residual O2 Content
0.11%
Configuration
Pouches in Bucket
Loose Pouches
4
Total Pouches
4
Weight
4 Pounds (lb)
Total Dimensions
.27 Cubic Feet
Breakfast has long been touted as the most important meal of the day. During emergency and survival situations, this is even more true. In an emergency, our bodies are often under plenty of stress to meet taxing physical, emotional, and mental demands. That's why it's so important to make sure you have breakfasts in your food storage pack that are nutritious, hearty, and delicious.
Each of Legacy's breakfast meals is particularly satisfying. With 433 average calories per serving, these meals will fill you up and keep you full all morning long. In addition to being satisfying, Legacy's breakfast meals are GMO-free, high in fiber, low in sodium, have no trans fat, MSG, or HFCS, and are low in fat and cholesterol. Purchase this sample pack and get healthy breakfasts that will build your body up to be strong and resilient in emergency situations.
Try the sample pack today to see for yourself what Legacy Premium food storage has to offer above other food storage companies in the industry: delicious freeze-dried meals, affordable pricing, and expert packaging for a long and reliable shelf life.
Breakfasts Included
Multi-Grain Cereal - 4 Servings
Oatmeal with Brown Sugar - 4 Servings
Strawberry Creamy Wheat - 4 Servings
Old Fashioned Pancake Mix - 4 Servings
Write Review
Your Name:
Your Review:
Note:
Do not use HTML in the text.
Rating:
Enter the code from the box below: