Legacy Premium 720 Serving Package
Move pointer over the image to zoom in
Legacy Premium 720 Serving Package
Model: FS0720
MSRP: $1,650.00 You save: $220.00
Availability: 2 - 3 Weeks
An affordable supply of emergency food that will sustain 2 people for over 4 months.
Take the stress out of emergency preparedness with Legacy's Premium 720 serving survival food buckets. Packed with a variety of tasty, gourmet freeze-dried meals, these buckets can supply one person 2000 calories per day for over 8 months or two people for 4 months. Even better, these meals are not typical food storage. They are part of Legacy Premium's gourmet supply of delicious freeze-dried emergency preparedness products that will keep your family nourished and healthy in any emergency situation.
Keeping a supply of emergency food will ensure you and your family are prepared for most emergencies or natural disasters that keep you from your home, result in food shortages or making it to the super market.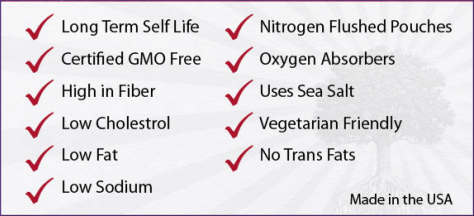 Premium 720 Serving Package
Servings
720
Average Calories Per Serving
371
Total Calories
267,360
2,000 Calorie Days
133.68
Shelf Life
Up to 25 Years
Residual O2 Content
0.11%
Configuration
Pouches in Bucket
Large Buckets
6
Total Pouches
180
Weight
184.56 Pounds (lb)
Total Dimensions
9.53 Cubic Feet
Shipping Configuration
Boxes
Legacy's Premium 720-serving food storage buckets contain delicious meals with real ingredients. Legacy Premium is extremely picky about what goes into its emergency preparedness meals. The freeze-dried meals are GMO-free and contain no trans fat, MSG, or cholesterol. They are also high in fiber and offer plenty of vegetarian-friendly and gluten-free options. With 4 different breakfasts and 19 different lunch/dinner entrees, you are sure to be pleased with the resulting variety and nutrition of your emergency supply.
It might be hard to believe once you taste Legacy Premium's meals, but even though they are so delicious, they are still emergency food, and they will last for 25 years in storage. We have a meticulous preservation process that ensures your disaster preparedness supply will stay fresh and tasty until the day you need it. Our long shelf life enables you to purchase food storage buckets for your emergency supply and then store them away without worry.
Even with the variety and tastiness of our long-term storage meals, Legacy is still able to offer an incredible value on all of our freeze-dried food storage buckets. In fact, Legacy offers the best value per serving in the freeze-dried food storage industry. When you purchase your preparedness supply with us, you get an excellent deal on the finest emergency food.
What's Included: Each item is sealed in it's own mylar pouch.

Breakfasts Included
Multi-Grain Cereal - 56 Servings
Oatmeal with Brown Sugar - 64 Servings
Strawberry Creamy Wheat - 56 Servings
Old Fashioned Pancake Mix - 64 Servings
Entrees Included
Cheese and Broccoli Soup Mix - 16 Servings
Cheesy Potato Soup Mix - 32 Servings
Chili Mac - 16 Servings
Classic Chili Mix - 32 Servings
Creamy A La King - 32 Servings
Creamy Potato Soup Mix - 32 Servings
Creamy Vegetable and Rice Soup Mix - 16 Servings
Enchilada, Beans, and Rice - 32 Servings
Hawaiian Style Sweet 'n Sour - 16 Servings
Italian Pasta with Marinara - 32 Servings
Loaded Baked Potato - 32 Servings
Macaroni & Cheese - 32 Servings
Pasta Alfredo - 32 Servings
Pasta Primavera - 32 Servings
Stroganoff - 32 Servings
Southwestern Soup Mix - 16 Servings
Vegetable & Rotini Pasta - 16 Servings
Spicy Corn Chowder Soup - 16 Servings
White Bean Chili Mix - 16 Servings
Write Review
Your Name:
Your Review:
Note:
Do not use HTML in the text.
Rating:
Enter the code from the box below: