Legacy Premium 360 Serving Package
Move pointer over the image to zoom in
Legacy Premium 360 Serving Package
Model: FS0360
MSRP: $830.00 You save: $110.00
Availability: 2 - 3 Weeks
Great package designed to support 1 person for 4 months or 2 people for 2 months.
Whether you are just getting started on your emergency preparation or your are a seasoned prepper, Legacy's Premium 360 serving supply of freeze-dried meals is an excellent option for you. Expertly packaged, these freeze-dried meals are designed to last long-term in storage and fit easily in most closets. This means you can keep a supply of delicious long-term food storage for use whenever you need it. Prepper or newbie, this supply will meet your food storage needs.
Designed to support 1 person for four month or two people for two months. This is the perfect storable food product. Keeping a supply of emergency food will ensure you and your family are prepared for most emergencies or natural disasters that keep you from your home, result in food shortages or getting to the super market.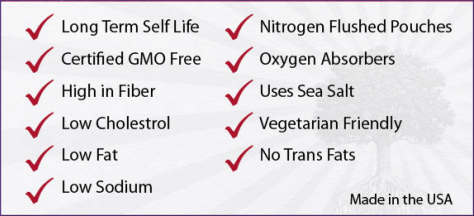 Premium 360 Serving Package
Servings
360
Average Calories Per Serving
371
Total Calories
133,680
2,000 Calorie Days
66.84
Shelf Life
Up to 25 Years
Residual O2 Content
0.11%
Configuration
Pouches in Bucket
Large Buckets
3
Total Pouches
90
Weight
92.28 Pounds (lb)
Total Dimensions
4.77 Cubic Feet
Shipping Configuration
Boxes
All serious emergency preppers know the importance of stocking up on food storage that is going to last long-term and be able to supply the demanding caloric and nutritional needs of a family in an emergency. Tested by several outside agencies, Legacy Premium's 360 Serving Package of delicious freeze-dried food storage is rated to stay fresh for 25 years or longer. In addition, each meal of this emergency supply has an average of nearly 400 calories per serving. Legacy's emergency food is truly designed to meet the needs of preppers everywhere.
Not only is this prepper food supply guaranteed to last long-term, it is also guaranteed to be tasty and full of variety. With 4 different freeze-dried breakfast meals, including strawberry creamy wheat and old-fashioned pancakes, breakfast will be something to look forward to. In addition, with 19 different freeze-dried lunch/dinner meals, including pasta alfredo, stroganoff, and hawaiian-style sweet and sour, among others, your family will love mealtimes, even in a survival situation.
What's Included: Each item is sealed in it's own mylar pouch.

Breakfasts Included
Multi-Grain Cereal - 28 Servings
Oatmeal with Brown Sugar - 32 Servings
Strawberry Creamy Wheat - 28 Servings
Old Fashioned Pancake Mix - 32 Servings
Entrees Included
Cheese and Broccoli Soup Mix - 8 Servings
Cheesy Potato Soup Mix - 16 Servings
Chili Mac - 8 Servings
Classic Chili Mix - 16 Servings
Creamy A La King - 16 Servings
Creamy Potato Soup Mix - 16 Servings
Creamy Vegetable and Rice Soup Mix -8 Servings
Enchilada, Beans, and Rice - 16 Servings
Hawaiian Style Sweet 'n Sour - 8 Servings
Italian Pasta with Marinara -16 Servings
Loaded Baked Potato - 16 Servings
Macaroni & Cheese - 16 Servings
Pasta Alfredo - 16 Servings
Pasta Primavera - 16 Servings
Stroganoff - 16 Servings
Southwestern Soup Mix - 8 Servings
Vegetable & Rotini Pasta - 8 Servings
Spicy Corn Chowder Soup - 8 Servings
White Bean Chili Mix - 8 Servings
Write Review
Your Name:
Your Review:
Note:
Do not use HTML in the text.
Rating:
Enter the code from the box below: