Legacy 120 Serving Certified Gluten Free Entree Bucket
Move pointer over the image to zoom in
Legacy 120 Serving Certified Gluten Free Entree Bucket
Model: EG0120
MSRP: $395.00 You save: $55.00
Availability: 2 - 3 Weeks
Stock up on gourmet gluten-free emergency food with this supply of dehydrated and dried meals.
Legacy's 120-serving gluten-free package of freeze-dried and dehydrated meals is the perfect addition to any emergency food supply. Because all of the food in this bucket is completely gluten-free, it's an ideal supply for those who suffer from gluten-related health problems. If you have family members who need to eat gluten-free, check out the variety of delicious freeze-dried and dehydrated meals in this supply and make a wise purchase today.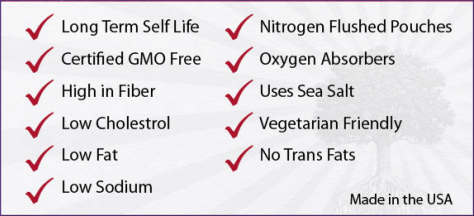 120 Serving Certified Gluten Free Entree Bucket
Servings
120
Average Calories Per Serving
384
Total Calories
46,080
2,000 Calorie Days
23.04
Shelf Life
Up to 25 Years
Residual O2 Content
0.11%
Configuration
Pouches in Bucket
Large Buckets
1
Loose Pouches
1
Total Pouches
30
Weight
Pounds (lb)
Total Dimensions
Cubic Feet
Shipping Configuration
Boxes
Legacy Premium emergency meals are a popular choice in food storage for a reason. Made with only high-quality ingredients and expertly packaged to ensure up to a 25-year shelf life, Legacy's dehydrated and freeze-dried food supply is a smart way to get your family prepared for emergencies. Best of all, if you have family members who need their diets to be free of gluten, Legacy has created this 120-serving supply of freeze-dried and dehydrated food that is exactly that.
With nine different entrees to choose from, this supply will feed a gluten-intolerant family member lunch and dinner every day for two months. All of these meals are customer favorites, including Legacy's signature chili mixes, creamy soups, and hearty bakes. When you have the 120-serving gluten-free food supply in your pantry, you ensure your family will eat gourmet meals even if it is an emergency situation.
You don't have to save these meals for emergencies, though. Legacy's dried and dehydrated meals make a perfect option for busy nights at home when you don't have time to cook. In addition, they are great to take along on camping trips or other outdoor adventures as they are lightweight and just need boiling water to prepare.
Gluten-Free Entrees Include
Enchilada, Beans, and Rice - 16 Servings
Loaded Baked Potato - 16 Servings
Creamy Potato Soup Mix - 12 Servings
Cheesy Potato Soup Mix - 12 Servings
Cheese and Broccoli Soup Mix - 12 Servings
Creamy Vegetable and Rice Soup - 12 Servings
Spicy Corn Chowder Soup - 12 Servings
Classic Chili Mix - 16 Servings
White Bean Chili Mix - 12 Servings
Write Review
Your Name:
Your Review:
Note:
Do not use HTML in the text.
Rating:
Enter the code from the box below: