Legacy Instant Mashed Potatoes
Legacy Instant Mashed Potatoes
Model: LE0023
MSRP: $40.00 You save: $11.00
Availability: 2 - 3 Weeks
Savory mashed potatoes. Great for a side dish and even as a snack.
Our instant mashed potatoes are a creamy classic. Savory enough to be eaten by themselves and be a good snack, they are also excellent eaten as a side dish with our other entrees. They are also good for adding in extra calories where you might be lacking.
Features
Will last up to 1 month after opening pouch in dry form (up to 3 months if refrigerated)
GMO Free
Resealable Bag Bag Stands Easily on a Shelf
Up to 25 year shelf Life
Great addition to your food storage or Perfect for Daily Use
Simple to Prepare – Just Add Water to Rehydrate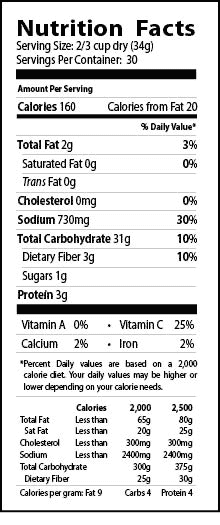 Directions For Four Servings
REMOVE OXYGEN ABSORBER AND DISCARD PRIOR TO COOKING
1. Remove oxygen absorber
and discard prior to cooking.
2. Mix 1 cup potatoes with
3 cups boiling water.
3. Potatoes need to be added all at once, stirring constantly until mixture begins to set (about 20 seconds).
Allergens: Milk, Soy.
Package Information
Serving Size: 2/3 cup (34g)
Servings Per Container: 30
Net Weight: 44.4 oz (1.26kg)
Shelf Life: 25 Years
Write Review
Your Name:
Your Review:
Note:
Do not use HTML in the text.
Rating:
Enter the code from the box below: