Legacy 350 Serving Coffee Bucket with French Press
Move pointer over the image to zoom in
Legacy 350 Serving Coffee Bucket with French Press
Model: DE0350
MSRP: $190.00 You save: $20.00
Availability: 2 - 3 Weeks
Wake up well, even in an emergency, with a supply of ground coffee in your food storage.
Having a supply of ground coffee in your food storage pantry for emergency situations not only gives you the energy you need to endure difficult times; it also provides a sense of normalcy and comfort when life is not normal. Add Legacy's premium supply of gourmet ground coffee to your food storage and ensure your mental clarity and stamina no matter what kind of emergency you face.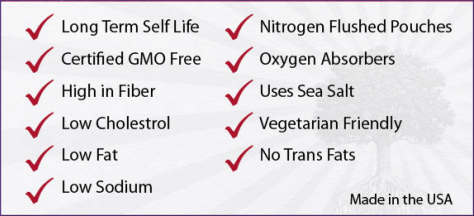 350 Serving Coffee Bucket with French Press
Servings
350
Average Calories Per Serving
1 Cup
Total Calories
0
Shelf Life
Up to 25 Years
Residual O2 Content
0.11%

Small Buckets

1
Total Pouches
Ten 35 Serving
Pouches
Weight
8 Pounds (lb)
Total Dimensions
.66 Cubic Feet
Shipping Configuration
Boxes
Legacy's rich roast of ground coffee may just be the only thing missing from your food storage supply. If you haven't considered storing your favorite beverage for an emergency before, you probably want to think about it now.
Coffee is an important part of many people's daily routine, and in an emergency situation more than at any other time, it is crucial that we be at our sharpest and most capable. Adding delicious ground coffee to your food storage supply is the perfect way to ensure you are in top form and can meet emergency circumstances head-on. In addition to helping you feel at your best, having instant coffee on hand also gives you a valuable bartering item should monetary systems fail during an emergency. Because it is such a popular drink, those who are in possession of it during tight times will be in a much more powerful position.
Legacy's gourmet 350-serving supply of instant coffee is the ideal addition to your food storage because it is affordable, long-lasting, convenient, and delicious. At only 34 cents per cup and with a 25-year shelf life, Legacy's coffee beats out the competition in price and quality. And because you also get a french press as part of this supply, you'll have everything you need in this one kit to make smooth, rich coffee whenever you want it.
Write Review
Your Name:
Your Review:
Note:
Do not use HTML in the text.
Rating:
Enter the code from the box below: