Legacy 160 Serving Chocolate Milk Bucket
Move pointer over the image to zoom in
Legacy 160 Serving Chocolate Milk Bucket
Model: DC0160
MSRP: $135.00 You save: $15.00
Availability: 2 - 3 Weeks
Add delicious Ghirardelli chocolate milk to your emergency food storage. Great way to add a special treat. Drink it Hot or Cold!
Can you or your family live without milk? You won't need to with a hearty supply of Legacy Premium dry powdered milk. We have a 160-serving supply from Legacy that will add important milk to your dried food storage. Dry milk powder becomes delicious milk simply by adding water and stirring. Powdered milk is loaded with protein, vitamins, iron and calcium and will benefit your family alone or with storage cereal/oatmeal/creamy wheat. Supply has 25-year shelf life.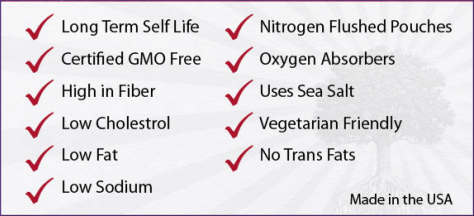 160 Serving Chocolate Milk Bucket
Servings
32
Average Calories Per Serving
130
Total Calories
20,800
Shelf Life
Up to 25 Years
Residual O2 Content
0.11%

Small Buckets

1
Total Pouches
20
Weight
15 Pounds (lb)
Total Dimensions
.66 Cubic Feet
Shipping Configuration
Box
Legacy Premium powdered chocolate milk drinks are made with delicious Ghirardelli chocolate. 160 servings of non-GMO food storage chocolate powdered milk will make the whole family smile, even during an emergency. Your food storage will not be the same without chocolate milk. Non-GMO powder drinks are a long-lasting solution to adding sustenance and calories to your stored water without sacrificing flavor, emergency or not.
A Legacy Premium chocolate milk bucket is the ideal way to add dessert-like flavor to your non-GMO emergency food storage powder drink supply. Rich Ghirardelli chocolate milk powder comes preserved in Mylar pouches (8 servings per pouch) along with an oxygen absorber and a nitrogen flush to maintain freshness for up to 25 years. Chocolate milk drink powder pouches are safeguarded against pests/water damage in a compact heavy-duty bucket. Non-GMO powder drinks are perfectly stored for your home emergency food storage.
Drinks Included
Chocolate Milk (160 Servings)
Write Review
Your Name:
Your Review:
Note:
Do not use HTML in the text.
Rating:
Enter the code from the box below: