Wise Foods Chili Macaroni With Beef - 6 Pack
Wise Foods Chili Macaroni With Beef - 6 Pack
Model: 05-701
MSRP: $34.99 You save: $2.00
Six each of cook in the pouch entrees. Just add hot water and wait 12 minutes.
The Wise Food Freeze Dried meals are ideal for camping, hiking, or keeping in your Bug Out Bag. The extra strength Mylar Foil pouch allows users to simply pour hot water into the bag and wait. In about 12 minutes users will be treated to a tasty and nutritious meal. Product weight of only 5 ounces means you can carry plenty of food without adding too much weight to your pack. The Chilli Mac With Beef entree has a shelf life of 7 years. The package contains six each pouches. Each pouch holds two 10 ounce servings that you can cook in the pouch. Just add hot water and wait 12 minutes and it's ready to eat!
Wise foods are an excellent option for those wishing to be prepared to provide for themselves or their families in times of an emergency. All Wise Food Outdoor Meals now contain real meat and have increased calorie content ranging from 500 to 780 per pouch. Additionally, the protein per pouch has increased to as high as 34 grams. The Wise Food Company's dedication to quality ensures a safe, nutritious product that will be there when you need it.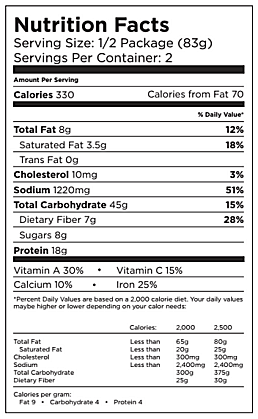 COOKING DIRECTIONS
Open package at tear notch and remove oxygen absorber from the pouch.
Add 2 cups (16 oz.) of boiling water to pouch and place on a at surface.
Stir thoroughly with a long spoon and close zipper.
Let stand for 12 to 15 minutes.
Open pouch—stir and eat.
Caution! Hot steam inside: use caution when opening pouch.
Ingredients: Pasta, (durum semolina flour [wheat], niacin, ferrous sulfate [iron], thiamine mononitrate, riboflavin, folic acid), bleached whey powder, maltodextrin, textured vegetable protein (soy flour), caramel color, pinto beans, bleached wheat flour (malted barley flour, niacin, iron, thiamin mononitrate, riboflavin, folic acid), tomato powder, dried onion, spices, salt, sugar, hydrolyzed soy protein, guar gum, natural flavors, garlic powder, caramel color, disodium inosinate and disodium guanylate, cirric acid, yeast extract, turmeric (color), coconut oil
Contains: MILK, SOY, WHEAT.
Note: Processed on equipment that also processes milk, soy, wheat, egg, shellfish, fish, tree nuts, and peanuts.
Write Review
Your Name:
Your Review:
Note:
Do not use HTML in the text.
Rating:
Enter the code from the box below: