Legacy 60 Serving Breakfast Bucket
Move pointer over the image to zoom in
Legacy 60 Serving Breakfast Bucket
Model: BB0060
MSRP: $140.00 You save: $10.00
Availability: 2 - 3 Weeks
Maintain a healthy start to each day even in an emergency with 4 different hearty breakfasts.
Whether you are getting ready for long-term survival situations or gearing up for outdoor adventures, Legacy Premium's food storage breakfast bucket is the perfect addition to your food storage supplies. Packed with 60 servings of four different hearty, delicious freeze-dried breakfasts—including multi-grain cereal, strawberry creamy wheat hot cereal, old-fashioned pancake mix, and oatmeal with brown sugar—this bucket will get you ready for a variety of survival and outdoor situations.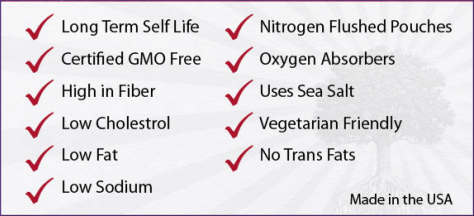 60 Serving Breakfast Bucket
Servings
60
Average Calories Per Serving
434
Total Calories
26,040
Shelf Life
Up to 25 Years
Residual O2 Content
0.11%
Configuration
Pouches in Bucket
Medium Buckets
1
Total Pouches
15
Weight
20 Pounds (lb)
Total Dimensions
1.23 Cubic Feet
Shipping Configuration
Box
Breakfast sets the tone for the rest of the day—especially in a survival situation. Start your day off with a wholesome, calorie-dense breakfast and you'll give your body the nourishment it needs to be tough, resilient, and ready even when conditions are difficult. Legacy Premium's freeze-dried breakfast bucket provides 60 day's worth of food storage breakfasts that are filling (434 average calories per serving), nutritious, and tasty so that your body has the fuel it needs when it needs it most.
In survival situations, food, power, and patience are usually in short supply. That's why Legacy Premium's freeze-dried breakfasts are simple to prepare, meaning breakfast can easily be ready when you are ready to eat. The delicious multi-grain cereal tastes great with cold milk and also makes a perfect ready-made snack throughout the day. The strawberry creamy wheat hot cereal and the oatmeal simply require boiling water to prepare. And because all freeze-dried meals and cereals come packaged in Mylar pouches and are then packed in a sturdy, compact bucket, the bucket can be opened and survival meals removed without affecting the food's 25-year shelf life.
Breakfasts Included
Multi-Grain Cereal - 12 Servings
Oatmeal with Brown Sugar - 16 Servings
Strawberry Creamy Wheat - 16 Servings
Old Fashioned Pancake Mix - 16 Servings
Write Review
Your Name:
Your Review:
Note:
Do not use HTML in the text.
Rating:
Enter the code from the box below: