Legacy Premium 1080 Serving Package
Move pointer over the image to zoom in
Legacy Premium 1080 Serving Package
Model: FS1080
MSRP: $2,400.00 You save: $310.00
Availability: 2 - 3 Weeks
Enough gourmet survival food to supply one person three meals a day for an entire year. Great for families.
Legacy's Premium 1080 serving supply of emergency food storage is the perfect place to start when preparing for survival situations. With enough gourmet survival food to supply one person three meals a day for an entire year, this package will ensure your family has a variety of quality emergency meals readily available. When you purchase this package of survival meals, you accomplish a vital step on the path to a one year emergency preparedness supply.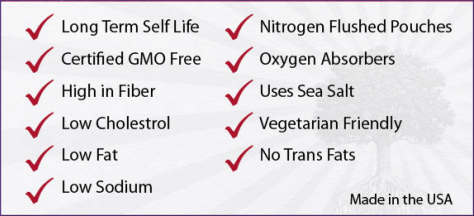 Premium 1080 Serving Package
Servings
1,080
Average Calories Per Serving
371
Total Calories
401,040
2,000 Calorie Days
201
Shelf Life
Up to 25 Years
Residual O2 Content
0.11%
Configuration
Pouches in Bucket
Large Buckets
9
Total Pouches
270
Weight
276.84 Pounds (lb)
Total Dimensions
14.3 Cubic Feet
Shipping Configuration
Boxes
Legacy Premium's 1080 Serving Package supplies over one half year's worth of emergency food storage and is one of our most popular packages. It's popularity comes because it offers an ideal amount of survival meals in a compact package size. If you are trying to get an emergency survival supply of a year, this package is perfect to get you on your way towards that goal. Not only will you be equipped with a huge variety of emergency food (4 breakfasts and 19 lunch/dinner entrees), the delicious taste and nutrition of the meals will far exceed your expectations.
In addition to being tasty and nutritious, Legacy Premium food storage is the ultimate in easy-to-store, easy-to-prepare emergency supplies. All of our delicious meals are sealed in four-serving Mylar pouches so that when you are ready for a meal, you simply pull out a pouch, add water, and enjoy. Storage is equally simple. Because all of the meals are packed in stackable, lightweight buckets, it's not hard to make room for your food storage.
Protect the people you care about most by purchasing a Premium 1080 Serving Package and work towards a one year supply of gourmet emergency food today. Keeping a good supply of emergency food will ensure you and your family are prepared for most emergencies or natural disasters that keep you from your home, result in food shortages or getting to the super market.
What's Included: Each item is sealed in it's own mylar pouch.

Breakfasts Included
Multi-Grain Cereal - 84 Servings
Oatmeal with Brown Sugar - 96 Servings
Strawberry Creamy Wheat - 84 Servings
Old Fashioned Pancake Mix - 96 Servings
Entrees Included
Cheese and Broccoli Soup Mix - 24 Servings
Cheesy Potato Soup Mix - 48 Servings
Chili Mac - 24 Servings
Classic Chili Mix - 48 Servings
Creamy A La King - 48 Servings
Creamy Potato Soup Mix - 48 Servings
Creamy Vegetable and Rice Soup Mix - 24 Servings
Enchilada, Beans, and Rice - 48 Servings
Hawaiian Style Sweet 'n Sour - 24 Servings
Italian Pasta with Marinara - 48 Servings
Loaded Baked Potato - 48 Servings
Macaroni & Cheese - 48 Servings
Pasta Alfredo - 48 Servings
Pasta Primavera - 48 Servings
Stroganoff - 48 Servings
Southwestern Soup Mix - 24 Servings
Vegetable & Rotini Pasta - 24 Servings
Spicy Corn Chowder Soup - 24 Servings
White Bean Chili Mix - 24 Servings
Write Review
Your Name:
Your Review:
Note:
Do not use HTML in the text.
Rating:
Enter the code from the box below: