Legacy Premium 2880 Serving Package
Move pointer over the image to zoom in
Legacy Premium 2880 Serving Package
Model: FS2880
MSRP: $5,995.00 You save: $745.00
Availability: 2 - 3 Weeks
Enough emergency food to sustain an average family for an entire year.
Supply yourself with 1 years' worth of gourmet food storage when you purchase our 2880-serving supply of freeze-dried disaster food. When we say gourmet, we mean that with Legacy Premium in your pantry, your disaster rations become a supremely delicious and premium eating experience that you'll want to have repeat even when it's not a disaster situation. This is because we are passionate about providing the most delicious, affordable, gourmet freeze-dried emergency supply available on the market.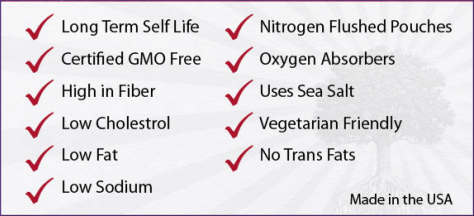 Premium 2880 Serving Package
Servings
2,880
Average Calories Per Serving
371
Total Calories
1,069,440
2,000 Calorie Days
534.72
Shelf Life
Up to 25 Years
Residual O2 Content
0.11%
Configuration
Pouches in Bucket
Large Buckets
24
Total Pouches
720
Weight
738.24 Pounds (lb)
Total Dimensions
38.13 Cubic Feet
Shipping Configuration
Pallet
When most people think of food storage rations, they think of bland, boring meals you have to swallow quickly so you don't taste too much. With Legacy Premium's gourmet freeze-dried food storage supply, nothing could be farther from the truth. Legacy Premium is truly gourmet food storage. Here's why: quality freeze-dried ingredients (GMO-free!), chef-designed recipes, and expert packaging for a 25-year shelf life. The end result is smart food storage that will both prepare you for disasters and supply you with gourmet disaster rations.
Legacy Premium's 2880-serving supply of freeze-dried disaster meals is not only the premium in emergency rations, it's also the model of emergency meals that are easy to prepare and easy to store. Packaged in lightweight, durable buckets that stack well on top of one another, these rations will not be hard to fit into your designated emergency storage spot. And when you're ready to use them, all you have to do is add water to enjoy a ready-made gourmet meal.
By offering Legacy Premium's gourmet freeze-dried meals at a low price, we make emergency preparation easy. When you purchase your survival supplies with us, you make an investment that will not only prepare your family for disasters, but prepare them well.
What's Included: Each item is sealed in it's own mylar pouch.

Breakfasts Included
Multi-Grain Cereal - 224 Servings
Oatmeal with Brown Sugar - 256 Servings
Strawberry Creamy Wheat - 224 Servings
Old Fashioned Pancake Mix - 256 Servings
Entrees Included
Cheese and Broccoli Soup Mix - 64 Servings
Cheesy Potato Soup Mix - 128 Servings
Chili Mac - 64 Servings
Classic Chili Mix - 128 Servings
Creamy A La King - 128 Servings
Creamy Potato Soup Mix -128 Servings
Creamy Vegetable and Rice Soup Mix - 64 Servings
Enchilada, Beans, and Rice - 128 Servings
Hawaiian Style Sweet 'n Sour - 64 Servings
Italian Pasta with Marinara - 128 Servings
Loaded Baked Potato - 128 Servings
Macaroni & Cheese - 128 Servings
Pasta Alfredo - 128 Servings
Pasta Primavera - 128 Servings
Stroganoff - 128 Servings
Southwestern Soup Mix - 64 Servings
Vegetable & Rotini Pasta - 64 Servings
Spicy Corn Chowder Soup - 64 Servings
White Bean Chili Mix - 64 Servings
Write Review
Your Name:
Your Review:
Note:
Do not use HTML in the text.
Rating:
Enter the code from the box below: