Legacy 60 Serving Certified Gluten Free Entree Bucket
Move pointer over the image to zoom in
Legacy 60 Serving Certified Gluten Free Entree Bucket
Model: EG0060
MSRP: $210.00 You save: $30.00
Availability: 2 - 3 Weeks
Get a month's worth of gluten-free meals with Legacy Premium's 60-serving freeze-dried food supply.
Equipped with Legacy Premium's 60-serving Gluten-free Entree Bucket, you ensure that even those members of your family with special dietary needs will have food in an emergency. This comprehensive food storage supply is made up of 60 servings' worth of freeze-dried meals, including 9 different gluten-free entrees. Each of these meals is completely free of gluten and is safe for those who suffer from Celiac disease, wheat allergies, or gluten sensitivities.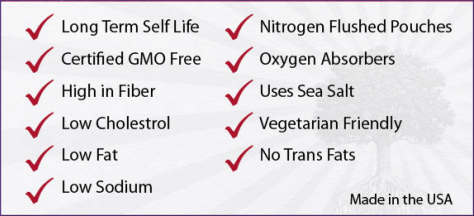 60 Serving Certified Gluten Free Entree Bucket
Servings
60
Average Calories Per Serving
520
Total Calories
31,200
Shelf Life
Up to 25 Years
Residual O2 Content
0.11%
Configuration
Pouches in Bucket
Medium Buckets
1
Total Pouches
15
Weight
22 Pounds (lb)
Total Dimensions
1.23 Cubic Feet
Shipping Configuration
Box
As more and more people are diagnosed with gluten-induced illnesses, Legacy Premium leads the food storage industry in providing gourmet freeze-dried meals that are not only nutritious and tasty, but also gluten-free. In this gourmet freeze-dried food supply, you get 60 servings of lunch and dinner meals that will please even the pickiest of eaters. That's because Legacy Premium knows its stuff when it comes to creating delicious food. This supply includes 9 different meal options, including everything from creamy soups to hearty chilis.
In addition to being delicious, your food supply will also be easy to store when you buy with Legacy Premium. All of the freeze-dried meals in this supply come packed in one lightweight, compact bucket that can fit almost anywhere in your home. Then, when the time comes to use your emergency supply, you can simply take a meal pouch out of the bucket, add boiling water, and have dinner ready in less than 20 minutes.
Legacy Premium knows how to simplify the emergency preparedness process. Because of Legacy's expert packaging, all of the freeze-dried food in this bucket has a shelf life of 25 years, meaning you are free from the stress of rotating and replacing your food storage constantly
Gluten-Free Entrees Include
Enchilada, Beans, and Rice - 8 Servings
Loaded Baked Potato - 8 Servings
Creamy Potato Soup Mix - 8 Servings
Cheesy Potato Soup Mix - 4 Servings
Cheese and Broccoli Soup Mix - 8 Servings
Creamy Vegetable and Rice Soup - 8 Servings
Spicy Corn Chowder Soup - 4 Servings
Classic Chili Mix - 8 Servings
White Bean Chili Mix - 4 Servings
Write Review
Your Name:
Your Review:
Note:
Do not use HTML in the text.
Rating:
Enter the code from the box below: