Legacy 240 Serving Certified Gluten Free Entree Package
Move pointer over the image to zoom in
Legacy 240 Serving Certified Gluten Free Entree Package
Model: GF0240
MSRP: $750.00 You save: $100.00
Availability: 2 - 3 Weeks
Store safe meals for all members of your family with a four month supply of bulk gluten-free food.
The 240-serving Bulk Gluten-free Entree Package provides four months' worth of freeze-dried lunches and dinners. All of these meals are designed to be safe for those who need their food to be free of gluten. And with nine different dried food storage meals to choose from, when you have this bulk supply in your pantry, you provide your family with plenty of options when it comes time to use your food storage.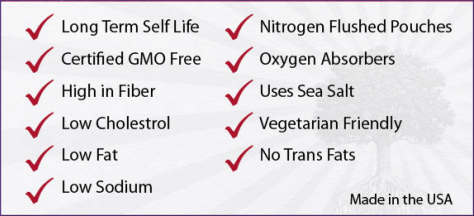 240 Serving Certified Gluten Free Entree Bucket
Servings
2410
Average Calories Per Serving
318
Total Calories
76,400
2,000 Calorie Days
38.2
Shelf Life
Up to 25 Years
Residual O2 Content
0.11%
Configuration
Pouches in Bucket
Large Buckets
2
Total Pouches
60
Weight
54 Pounds (lb)
Total Dimensions
3.18 Cubic Feet
Shipping Configuration
Boxes
The food storage industry is adapting slowly to the needs of those who have allergies or sensitivities to gluten. All along, Legacy Premium has been a leader in adjusting its offerings to meet the needs of the growing gluten-free community. The 240-serving Entree Package is one of our most popular freeze-dried offerings when it comes to gluten-free food storage. With a variety of tasty meals to choose from and up to a 25-year shelf life, Legacy's bulk dried meal packages are the wisest choice in food storage.
The 240-serving Bulk Gluten-Free Package is an excellent way to get started on food storage because it is such a compact supply of quality emergency rations. Packed in just two buckets, the entire supply can fit easily in most spaces. In addition to being easy to store, these freeze-dried gluten-free meals are also easy to prepare when you are ready to use them. All you need is boiling water and your hearty, delicious meal will be ready in under 20 minutes.
When you are looking to buy bulk emergency meals and you have family members with special dietary needs, look no further than Legacy Premium's gourmet 240-serving Dried Entree Package. With a variety of meal options, a long shelf life, and high-quality ingredients, your emergency supply will meet your family's needs.
Gluten-Free Entrees Include
Enchilada, Beans, and Rice - 32 Servings
Loaded Baked Potato - 32 Servings
Creamy Potato Soup Mix - 24 Servings
Cheesy Potato Soup Mix - 24 Servings
Cheese and Broccoli Soup Mix - 24 Servings
Creamy Vegetable and Rice Soup - 24 Servings
Spicy Corn Chowder Soup - 24 Servings
Classic Chili Mix - 32 Servings
White Bean Chili Mix - 24 Servings
Write Review
Your Name:
Your Review:
Note:
Do not use HTML in the text.
Rating:
Enter the code from the box below: