183 Serving Mega Sample Pack
Move pointer over the image to zoom in
183 Serving Mega Sample Pack
Model: ES0183
MSRP: $325.00 You save: $40.00
Availability: 2 - 3 Weeks
The ultimate sampler pack. This Mega Sample pack allows you try every one of Legacy's emergency food products and decide what you like.
The 183-serving Mega Sample Pack from Legacy includes a sampler pouch of every emergency breakfast, entree, side, and drink (including coffee!) that Legacy Premium provides. Because it offers a chance to sample every item of emergency food storage that Legacy makes, the Mega Pack allows you to decide for yourself about our claims that Legacy Food Storage is the tastiest, healthiest, most affordable food storage in the emergency preparedness industry.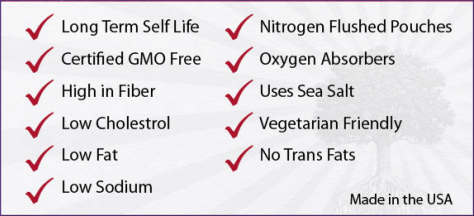 183 Serving Mega Sample Pack
Servings
183
Average Calories Per Serving
227
Total Calories
41,600
2,000 Calorie Days
21
Shelf Life
Up to 25 Years
Residual O2 Content
0.11%
Configuration
Pouches in Bucket
Large Buckets
1
Total Pouches
34
Weight
31 Pounds (lb)
Total Dimensions
1.59 Cubic Feet
Shipping Configuration
Box
A crucial part of making a food storage purchase is knowing that the emergency food you are purchasing is going to be food that your family will eat and enjoy in an emergency situation. The Mega Sampler Pack is designed to give you the chance to try everything on Legacy Premium's menu so you can do just that. Sample every delicious meal, hearty entree, tasty side dish, and refreshing drink, and see for yourself what all the buzz is about with Legacy Premium.
After you've sampled it all, you can then choose the entrees, sides, drinks, and breakfasts that you liked the best and call us to help you create customized emergency food storage buckets that are perfectly suited to fit your family's needs and please their taste buds.
The Mega Sampler Pack is also a great way to add variety and bulk to existing food storage. With 4 different breakfasts, 19 different entrees, 6 side dishes, and 5 drink options, the Mega Sampler Pack adds satisfying and nutritious food to your emergency reserves. Best of all, Legacy meals are made with only high-quality ingredients, has an up to 25-year shelf life, and is the best value on freeze-dried food storage in the industry.
Breakfasts Included
Multi-grain cereal - 4 Servings
Maple Oatmeal with brown sugar - 4 Servings
Strawberry creamy wheat - 4 Servings
Old-fashioned pancake mix - 4 Servings
Entrees included
Italian Pasta with Marinara - 4 Servings

Enchilada, Beans, and Rice - 4 Servings

Classic Chili Mix - 4 Servings

White Bean Chili Mix - 4 Servings

Pasta Alfredo - 4 Servings

Pasta Primavera - 4 Servings

Potato Soup Mix - 4 Servings

Creamy A La King - 4 Servings

Stroganoff - 4 Servings

Hawaiian Style Sweet 'n Sour - 4 Servings

Vegetable & Rotini Pasta - 4 Servings

Chili Mac - 4 Servings

Macaroni & Cheese - 4 Servings

Southwestern Soup Mix - 4 Servings

Cheesy Potato Soup Mix - 4 Servings

Cheese and Broccoli Bake - 4 Servings

Spicy Corn Chowder Soup - 4 Servings

Creamy Potato Soup Mix - 4 Servings

Creamy Vegetable and Rice Soup Mix - 4 Servings
Sides included
Freeze-dried Strawberries - 4 Servings
Banana Chips - 4 Servings
Instant Mashed Potatoes - 4 Servings
Parboiled Rice - 4 Servings
Refried Beans - 4 Servings
Freeze-dried Green Beans - 4 Servings
Drinks Included
USDA Grade-A Powdered Milk - 16 Servings
Chocolate Milk - 16 Servings
Coffee - 35 Servings
Write Review
Your Name:
Your Review:
Note:
Do not use HTML in the text.
Rating:
Enter the code from the box below: